Well, I hope everyone has a safe and enjoyable Easter day. Josh and I plan to partake in our personal, "unofficial" Easter for the second year in a row since I moved to Chicago over a year ago - Dinner in Chinatown. (OMG...I can not believe that it's been that long!) We have our favorite resturant called Triple Crown that I totally recommend if you want really, really good Chinese food in Chicago.
Plus we plan to hit the Chinese bakeries after dinner if we are not too full from our early dinner. We had Chinese food on Christmas. Why not on Easter? Josh is Jewish and only celebrates on Passover (which is a whole month apart!). I have don't have family here in Chicago so there's no pressure to cook (or go to Mass too).
It is also a rest day so no running either. Tommorow's going to be the start of my semi-taper for Shamrock and still keep up with the half-marathon training program. I am SO praying for good weather on Sunday....PLUHHHHHEEZE!
Until tommorow, go eat CANDY (and NOT your kids' Easter baskets either!)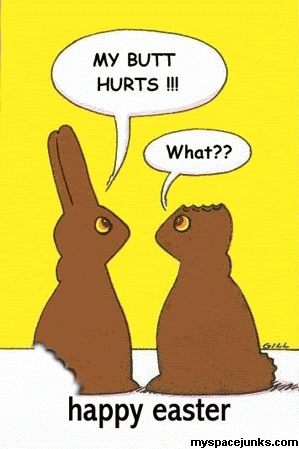 Myspace Graphics- At Myspacejunks.com